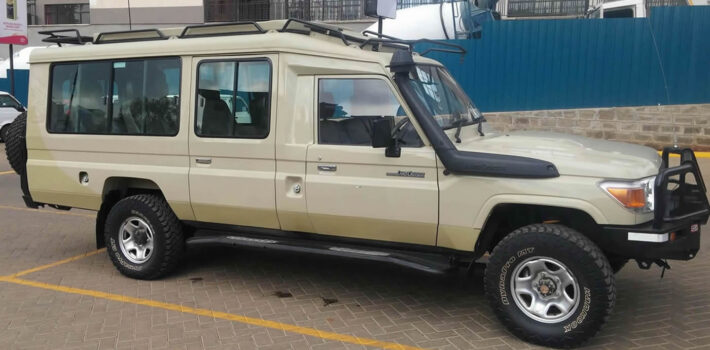 Why Rent a 4wd Car Rental for Self drive in East Africa.
East Africa is a region filled with a diversity of attractions ranging from wildlife, culture, landscapes, water bodies all spread out across different corners of Uganda, Rwanda, Kenya & Tanzania confined in strategic places within the cities and remote areas.
Getting to these destinations  requires a person with vast driving experience and good knowledge about the region and attractions within , but the most important factor to consider is getting the right car for the job.
Sedans and luxury cars are ideal for tours around the city and the outskirts but road trips to national parks and other remote destinations require you hire a 4×4 car in East Africa given it's capabilities and features that will guarantee you get where you are going comfortably and most importantly arrive in time.  Popular 4×4 cars for hire in East Africa include the safari Land cruiser, Safari van , Rav4, Coaster bus, Land cruiser Prado, Nissan patrol among others.
Below are some reasons why you should rent a 4×4 car if you plan on doing a safari in East Africa this season and looking for that perfect car-
Handle tough terrain– 4×4 cars are by far the best safari cars for hire in East Africa and the adaptability to all kinds of road gives these cars an added advantage. The high standing strong tyres are built to handle muddy, stony and slippery surfaces so you can be assured you wont have any problem along the way.
4 Wheel Drive – the 4 wheel drive mechanism offers a car extra power along all wheel axles giving the car extra shaft that will come in handy on steep slopes, muddy ground or when you land into a road ditch. Just activate 4 wheel drive and you are good to go.
Cargo space – Most sedans and luxury cars are not customized to handle huge luggage and that's where a 4×4 car comes in to the rescue, with adequate space for cargo in the rear and in some cases extra space on the roof rack, you wont have to worry about getting squeezed with your cargo along the road trip to Uganda, Rwanda or Kenya.
Passenger comfort  – We all want to travel as comfortable as possible , leg room, air-conditioning, refreshments and entertainment all play a big role in making this a possibility. When you opt for 4×4 car hire in East Africa, expect to get all these as these cars have adjustable comfortable seats with air-conditioner, freezer box and CD/DVD/MP3 player plus FM radio transmission so you wont dread sitting through those long miles.
Customized features – Among all the categories of cars in East Africa, none matches the stand out interior and exterior features a 4×4 possesses. Some come with a pop-up roof (ideal for game drives), extra cargo rack on roof top, freezer box and some come with a full camping gear compartment for adventure tourists that love that out-door night experience.
So before you make the final decision of traveling to Uganda, Rwanda, Kenya or Tanzania for a safari , business or leisure holiday, you should consider hiring a 4×4 rental car with a trusted car rental agency in East Africa.